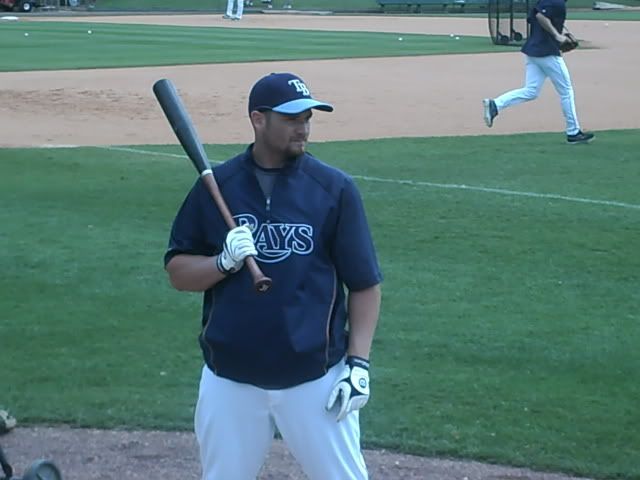 For the second straight day the Rays routed their way to a victory. Today the star was the Blue Jays defensive who had five errors in one inning. The fifth inning couldnt have gone worse for the Jays. The Rays scored 10 Runs and that was more than enough. Jonny Gomes is heating up again, going 3-4 with home run, tying him with Carlos Pena for the team lead(4). BJ Upton(2-4) and Carlos Pena(2RBI) continue to have quietly impressive springs. Eric Hinske started at 3B and Elliot Johnson at SS to show some defensive flexibility that will help them make the club.



It was all good news on the mound. Jason Hammel pitched only four innings by design to allow relievers to get more work in. Hammel was impressive, giving up only three hits and no walks. Trever Miller, Al Reyes, Dan Wheeler, Gary Glover and Troy Percival, the five keys to the Rays pen, pitched a combined five scoreless innings only giving up two hits and striking out six. The best sign was from Percival, who struck out two in his scoreless frame, after a disasterous outing on Sunday.

In other news:

Brian Anderson's career as a Rays isn't quite over yet. While his playing days are now done, the Rays were impressed by Anderson and named him assistant to Pitching Coach Jim Hickey. Anderson will assist in scouting and monitoring the staff. Quote from The Heater:

"It's not something I ever dreamed of," Anderson said. "I was honored."

Also we have some encouraging news on Scott Kazmir. Kazmir, who hasn't thrown of a mound in over a week, will begin tossing from 90-120 feet in the next few days and could see some time on a mound next week.

Reports are coming out of Seattle that the Rays maybe interested in OF Jeremy Reed.

"A veteran American League scout said Monday that Tampa Bay also is interested in Reed as a left-handed hitting outfielder to platoon with Jonny Gomes. The Rays might be willing to trade some young pitching to land someone who might get 350 or more at-bats this season."

Reed is left handed, can play CF and has two more years of team control. He played a career high 141 games in 2005, but only hit .254/.322/.352. Reed can hit righties ok, but can't touch a lefty(.271/.329/.396 compared to .165/.245/.226) for his career. We all know the only thing Gomes mashes better than lefties is blondes, so a platoon with Reed looks pretty good on paper. Plus by all accounts Reed is a very good defender.

The Mariners did have interest in Edwin Jackson and J.P. Howell last season.

Another option that may be available is Matt Murton of the Cubs. The Cubs just picked up former Jays OF Reed Johnson and have been trying to move Murton. The problem with Murton is he is suited for the corner OF and not much else. He is, however, a pretty good offensive player with a career line of .296/.365/.455, but like Gomes is much better against lefties.