Another quick recap for me today. The Rays are playing another home and home series with the Phillies today and tomorrow. Today the Rays dropped the first game to the Phillies in Clearwater 4-2. Evan "Encore" Longoria hit another home run today. That gives "The Natural" a team leading three on the spring. While it still looks like he's Durham bound he isn't going quietly. Other than Longoria's blast the Rays managed only two other hits, one by Reid Brignac and one by Dioner Navarro.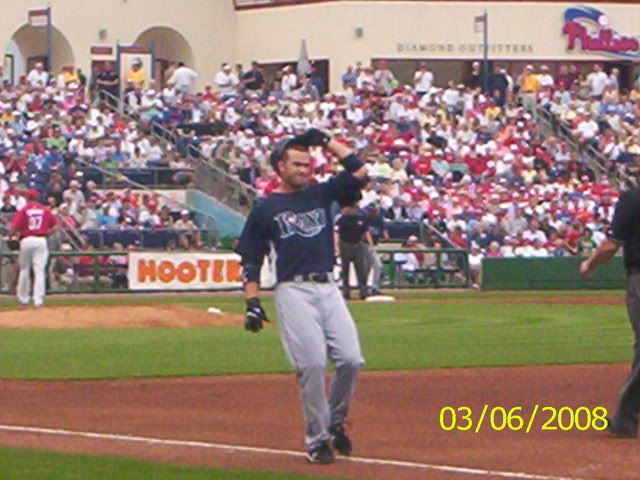 On the mound, Matt Garza had a so-so outing. He went six innings giving up four runs(three earned) and walked three. J.P. Howell was perfect in his only inning. The story on the mound today was the Phillies Cole Hamels. Hamels went six innings giving up one run on two hits and had seven K's.

The same two teams play tomorrow at Al Lang Field. Edwin Jackson gets the start for the Rays followed by: Scott Munter, Scott Dohmann, Troy Percival and Grant Balfour.

Here's the Box score .

In other news, Ben Zobrist had the cast taken off his thumb a week a head of schedule and might not miss the season opener after all.

Scott Kazmir will continue to take it easy, especially after watching Brian Anderson's career end last week with an elbow injury. From Raysbaseball.com:


"It kind of freaked me out a little bit, to be honest with you," Kazmir said. "You see him come in and the next thing you know he's talking about, 'Oh, I ripped my whatever' and what not. Then I'm like, maybe I should take a little more time.

"I see that going on. I'm thinking, 'Oh, man, I don't want to be in that boat.' And, plus, I've got the time no just to make sure that everything is strong and I'm ready to go."

Kazmir talked to Anderson after Anderson received the diagnosis, but he didn't want to talk to him too much.

"I didn't want to get too many images in my head about what was going on," Kazmir said. "But yeah, I talked to him a little bit about it right when he came in afterwards."

Kazmir said he's all ears when receiving good advice, noting Anderson told him: "Dude, don't rush it at all. This is a perfect time to do that, Spring Training."