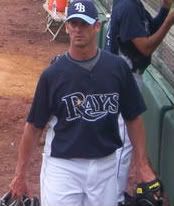 Well the pitching staff seems to be set after today's latest move. The Heater is reporting that Grant Balfour was notified that he will be designated for assignment, which means Scott Dohmann will get the last spot in the bullpen. Balfour hopes to catch on with another team, but didn't rule out accepting the assignment if that doesn't happen. Balfour, who pitched better than Dohmann this spring, seems pretty upset about the move.

"I thought I threw the ball pretty good but at the end of the day it makes no difference - I'm out of here,'' Balfour said. "That's the way it goes. ... They made a business decision and that's what they went with. ... They know who they want from the get-go, probably. I don't know what they wanted to do. I could have maybe given up no runs and still not made this team. I don't know. It's disappointing.''

Personally, I like Balfour and have been picking him almost all spring to make the team, but is he serious? Balfour didn't help himself yesterday by walking four batters in 1.2 innings. Also, coming into the spring Joe Maddon said 2007 numbers would have more value than Spring numbers and it looks like that is the truth. In 22 games with the Rays, Balfour had a 6.14 ERA, 1.91 WHIP compared to Dohmann who posted a 3.31 ERA and 1.44 WHIP in 31 games.

There could be some more roster moves in the works, check back later for an update.

Here goes update #1.

The Rays filled their 5th OF spot today claming Nathan Haynes from the Anaheim Angels. We thought the Rays might take a run at Haynes a few weeks ago. We still think Hinske will make the team as the primary backup at 1B/3B and platoon with Gomes in RF. This probably means Guzman going to AAA, yes he still has an option.

2007 for MiLB split for Haynes

VS RHP 126 ABS

/.444/.510/.651

VS LHP 43 ABS

/.233/.340/.395

From the Heater:

The Rays filled their outfield void by claiming Nathan Haynes off waivers from the Angels. To make room on the 40-man roster, they placed OF Rocco Baldelli on the 60-day disabled list.

Haynes, 28, made his big-league debut for the Angels last season after nearly a decade in the minors. Haynes hits lefthanded, and hit .267 with one RBI in 45 games of reserve duty last season (going 3-for-5 against the Rays). He is a career .281 minor-league hitter, steals a lot more bases (254) than hits home runs (34), and tends to get on-base a lot. Haynes hit .265 in 19 games this spring. He has tremendous speed and can play all three outfield spots.