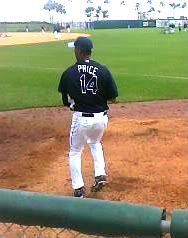 The may have changed the name of the field, but today a legend was born on it. The Rays beat the Yankees to improve to 7-1 this spring, but the real story was David Price. Price took the mound in a professional game for the first time. So what he plunked the first batter, he was just setting the tone. Price went on to strike out the side topping the Radar gun at 99 MPH. Scouts consistently clocked Price at 95-97. Grown men wept in the stands as they witness the greatness. Ok so maybe thats all little dramatic for a spring game, but you have to be impressed by David Price's debut in a Rays Uni even in an exhibition game. All in all Price threw 17 pitches, 11 for strikes and Duncan, Lane and Betemit may not be Jeter, Rodriguez and Posada, but you can't dismiss the arsenal Price showed.

Price was the most impressive, but wasn't the only Rays pitcher who pitched well today. Shaking off his so-so first start of the spring, Matt Garza allowed one hit in three innings striking out four. Brian Anderson and Scott Munter threw a scoreless inning a piece and Scott Dohmann was perfect in his two innings of work. Kurt Birkins also worked an inning, giving up the Yankees only run.

Jonny Gomes hit his second home run of the spring, hitting a solo shot off of Mike Mussina. Hector Gimenez also hit a home run(1). His shot came off of Yankee Prospect Russ Ohlendorf. Rays 3B stud Evan Longoria was 1-3 with a run scored, while his closest competition, Willy Aybar was 1-1 with a RBI double playing 1B.

Box Score

The record setting Rays lead by Edwin Jackson will host the Reds on Sunday without Rocco Baldelli, who has all but been ruled out for Sunday's game. The clock is ticking on Baldelli and even Skipper Joe Maddon admitted it by telling the St. Petersburg Times:

"It's not like we're not worried about it right now (but) over the course of the next week something's probably got to give in a positive direction to know that he's going to be able to to get out there with any kind of regularity,'' Maddon said. "You're looking to get nine innings, whether it's as a DH or an outfielder so I'd say the next week is going to be very vital or important to determine that.''

The outlook on Scott Kazmir is much better. Kaz will throw a bullpen session on Monday after completing the long toss portion of his rehab.