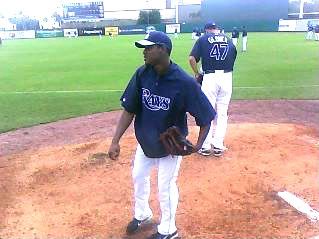 The Rays proved today that you can't win them all. On a brisk Sunday afternoon the red hot Rays cooled off a bit losing 6-4 to the visiting Reds. Edwin Jackson pitched like he did the first half of last season, which was pretty bad. The second inning was the trouble spot for Jackson. He gave up six runs, five earned and had a throwing error. In total Jackson went four innings giving up seven hits, six runs, five earned, walking two and zero K's. The defense didn't help much either, committing four errors including Jackson's. However, The rest of the Rays pitched well. Chris Mason, Troy Percival, Dan Wheeler, Gary Glover and Mitch Talbot combined for five no hit innings giving up a combined two walks and striking out five.

Evan Longoria was 1-1 with a run scored in his only AB. Hot hitting Jonny Gomes went 0-3, but Mr. March Ben Zobrist continued rolling on with two hits, playing RF and LF. Zobrist has now played seven positions in spring and is hitting .421. Willy Aybar and Joel Guzman were both 0-2.

BoxScore

Jason Hammel gets the start for Rays tomorrow against the visiting Indians and Paul Byrd. Also scheduled to pitch for the Rays are: Grant Balfour, Al Reyes, Wade Davis, Trever Miller and Jake McGee. Before the game Scott Kazmir is expected to throw a bullpen session.