Jon Weber Showing the Chrome Dome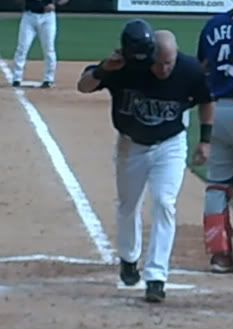 Trailing for most of the game today, the Rays decided to pick up the offense in the 8th inning by scoring five runs. The five run inning put the Rays over the top in an 8-4 victory over the Blue Jays on a cloudy day in St. Petersburg. The Rays are now 10-3-1 this spring.

For a second straight start Edwin Jackson struggled. Ejax gave up four ER in five Innings. Again, the problem with Jackson was control. He walked four batters and had zero K's. Al Reyes pitched in with a scoreless inning and has yet to give up a run this spring(that counted at least). Trever Miller pitched a perfect 1.1 innings and Grant Balfour closed down the final 1.2 innings including 3 K's and no hits.

Evan "Encore" Longoria hit his second home run of the spring, a 2-run shot off Jeremy Accardo in the 8th. Longoria finished 1-2 with the 2 run blast, raising his avg to .333. His competition Willy Aybar was 0-2. Joel Guzman should officially be out of the 3B race playing LF going 0-1.

The fifth OF spot is looking like a two man race between John Rodriguez and Jon Weber. Rodriguez is starting to hit and was 2-3 today with an RBI. Jon Weber was 1-4. Chris Richard is quickly falling out of the race playing 1B and going 0-1.

Eric Hisnke also continued his hot spring going 1-2 with 2 runs scored. He is hitting .476, playing all corner positions.