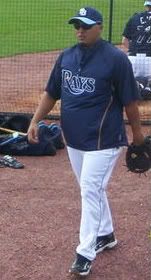 The Rays carried the momentum gained in the spring up to Baltimore today in the 2008 opener. Behind excellent pitching from Co-Ace James Shields and production 1-9 in the lineup, the Rays defeated the Orioles 6-2 and keep the dreams of 162-0 Alive. The best part about it is I only questioned Joe Maddon's in game management once, it's truly a season of change.

On the Mound

James Shields got off to a rocky start, giving up 2 runs in the first, but after that he was typical Shields. He went thought the next 6 innings scoreless and really took the game by the horns. Although he walked three, Shields cruised through seven innings on 87 pitches. He turned the ball over to Shawn Camp and Brian Stokes who blew the lead and the game....wait it's 2008. Shields actually turned the ball over to Trever Miller who came out to start the 8th, the move I questioned since Miller is slated to be our lefty specialist. Maddon had the quick hook on Miller after .1 inning and Al Reyes got a strikeout and batters interference to close the inning. In a non save situation Dan Wheeler pitched a perfect ninth....no wait he dropped a web gem by Pena, but still a scoreless inning.

At the Plate

Who is that man behind the plate for the Rays? I think I just witnessed Ivan Rodriguez reincarnated in Dioner Navarro's body. Navi was 3-4 with a double and RBI. This years reclamation project Eric Hisnke also showed why Andrew Friedman is a genius by hitting a solo home run. All in all each one of the Rays starters reached base giving a great balance to the line up 1-9.

What a great way to start the season, great starting pitching, nice bullpen work and a solid offense. If the Rays play like this every day...OH MY!