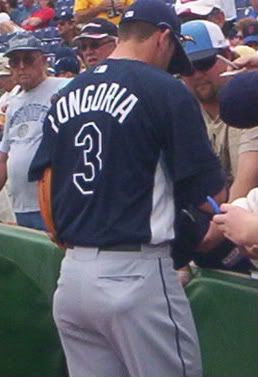 We finally have the answer to the biggest question of spring training. Where will Evan Longoria start the season? The answer as many expected, is with the Durham Bulls. The Heater is reporting Longoria was reassigned to minor league camp after today's 13-4 victory over the Pirates. Longoria won't be going alone however, his best friend and future Rays stud, Reid Brignac, was also reassigned to minor league camp.

Longoria Quote:

"It's a tough thing to swallow; just go back down and keep doing what I'm doing," he said. "They didn't give me any timetable; it's really up to me."

Longoria answered a lot of questions with his play on the field this spring hitting .262 with 3HR, 10 RBI,10 BB and flashing the leather in the field, but it wasn't enough to convince the Rays to put him on the opening day roster. This move also will put a delay on any "service clock" and will aide in keeping Longoria in a Rays uniform longer. While most Rays fans will see this move and scream "CHEAP!", baseball is a business and Sternberg and Co. have been playing the game smart. With a rotation featuring Jason Hammel and Edwin Jackson, the Rays are not contending for a playoff spot this season. There is no reason to trade a quarter of a season in 2008 for a full season in 2014. Some will bring up the argument that if the Brewers had Ryan Braun for a full season they might have made the playoffs. That argument isn't valid here. The Brewers had much more talent in their rotation and Scott Kazmir is more likely to keep the Rays out of contention than Longoria at this point.

It's almost a given that Longoria will be with the team by Memorial Day and until then we get to see Willy Aybar and Joel Guzman at the hot corner.

UPDATE: In other news 1st overall pick David Price will miss at least 6 weeks with a left elbow strain, according to sptimes.com. Price missed some time early this spring with arm stiffness and took himself out of a minor league game on Thursday after some discomfort.

"The good news is that obviously it's nothing significant,'' executive VP Andrew Friedman said. "We had that sense pretty soon after it happened but it's always good to get confirmation. Hearing the report the biggest delay is just going to be in terms of building him back up not necessarily getting him healthy.''
Price is expected to hang around St. Petersburg and participate in extended ST before reporting to Vero Beach some time after Mid May.