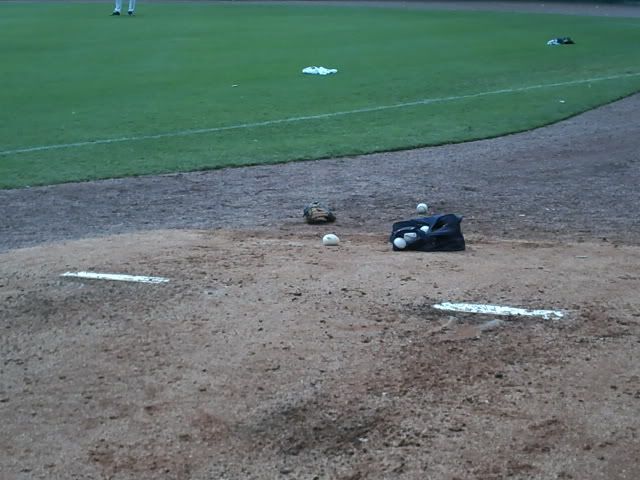 March Madness is taking place in Tampa today, however, the madness I'm talking about isn't happening at the St. Petersburg Times Forum. The Rays are in Tampa today playing the Yankees and Andy Sonnanstine will be making his case for a rotation spot. With Scott Kazmir headed to the DL, the Rays rotation has two guaranteed spots(Shields and Garza), but the final three spots are still up for grabs and it looks like it's going to be a battle until the end.

Jason Hammel, Edwin Jackson, and Jeff Niemann have all made their bids this week and Sonnanstine will make his second spring start today. Jackson was dominant against the Phillies after coming off some shaky past performances. Hammel was ok and looked pretty good himself last Saturday against the Braves after a terrible showing against the Indians. Niemann has been on a roll since struggling in his first appearance with a high pitch count. Andy Sonnastine has been the most impressive out of the bunch, but his appearances have been mostly in a late inning relief role.

Spring Stats:

Edwin Jackson 4 Games, 4 Starts, 16.2 IP, 5.40 ERA, 9K's, 7BB's, 13 Hits, 10ER

Jason Hammell 5 Games, 4 Starts, 17.1 IP, 7.64 ERA, 10K's, 9BB's, 21 Hits, 15ER

Jeff Niemann 4 Games, 3 Starts, 12 IP, 1.50 ERA, 5K's, 5BB's, 12 Hits, 2ER

Andy Sonnanstine 5 Games, 1 Start, 9 IP, 1.00 ERA, 8K's, 2BB's, 9 Hits, 1ER

Joe Maddon has been preaching strike throwing this spring. Niemann and Sonnanstine have been pounding the strike zone, while Jackson and Hammel have been inconsistent to say the least. So with that fact and a look at the spring numbers, you would think Sonnanstine and Niemann would be the locks, but in fact it is just the opposite.

Even though Hammel has given up 21 hits, 15 ER in 17.1 innings and Jackson, 13 Hits and 10 ER in 16.2 innings, they are actually the favorites. The truth is it has to do more with their option status than their performance. Both Jackson and Hammel are out of options and would have to clear waivers before accepting an assignment to Durham. Both surely would be claimed by a team who has some rotation flexibility(Nationals, Marlins, Astros all come to mind) and are willing to take a chance on a talent arm that hasn't lived up to potential.

So what does this all mean? Jackson is a lock. He will almost certainly be the Rays third starter going into the season. He did have a strong second half last season, but still posted 4.48 ERA after the All-Star break. The scary part is that was almost a full three runs less than his Pre ASB ERA of 7.23. The problem with Jackson remains control, or lack their of and it doesn't seem to be improving. His K/BB ratio before the ASB was 1.55, after the ASB it was 1.37 and this spring its even worse 1.29. Jackson has the opportunity to make an impact, but with the influx of talent at the minor leagues getting better and better he is running out of time.

Jason Hammel is looking more and more like an AAAA pitcher the more we see him. While his numbers aren't quite Orvellian, there is a pretty significant difference between his MLB and MiLB numbers. In the minors Hammel's HR/9 is a 0.56, in the majors that number jumps to 1.33. Last year in AAA he gave up 61 hits in 76.1 Innings, at the majors he gave up 100 in 85. His K/BB ratio is also pretty telling. For his minor league career his ratio is 2.84, which is not great, but it's pretty good. Normally anything close to 3.00 in considered "good". However, when that shuttle lands in St. Petersburg the ratio drops down to 1.57. Hammel doesn't really deserve a spot, but the out of options status will give him one. He isn't as sure as Jackson, however I think you can lightly pencil him as the number four starter to start out the year.

"Big Red" Jeff Niemann was drafted by the Rays 4th overall in 2004 with the potential of future staff ace. Injuries have truly slowed Niemann's progression and he no longer is considered ace material. However, he is big, really big and throws hard and finally looks healthy. Actually, on most teams Niemann might still be considered an one or a two potential prospect, but on the pitching rich Rays he's more like a three or four. Niemann pitched a career high 131 innings last year at Durham and had a 8.45 K/9. This spring Niemann has been more than solid. You would think he's earned a peek. Maybe a one or two start audition, but then again Niemann has never pitched in the majors, still has options and could use some more seasoning. I think Niemann is the odd man out to start the season, but shouldn't renew his lease in Durham for much longer. If Jackson or Hammel continue to be ineffective Niemann will be the first one called up.

This brings us to "The Duke" Andy Sonnanstine, the talented double jointed ping pong player turned MLB pitcher. Sonnanstine is a true MLB pitcher, but his role is up in the air. He has doesn't have a ton of MLB experience, but still Sonnanstine is probably the most polished of the group. A "bulldog" pitcher Sonny won't wow you with his 98 MPH fastball, but he peck you to death with his 88 MPH fast ball because of his different arm slots and excellent control. Sonnanstine made made 22 starts for the Rays last year finishing 6-10 with a 5.85 ERA. On the surface that's nothing spectacular, but looking further into it it wasn't as bad as it seems. Sonny gave up way to many hits last year (151 in 130 innings) , but some of that can be attributed to a historically bad defense. Sonnanstine showed great control posting a K/B of 3.73 which is pretty damn good. One interesting piece with Sonnanstine is his numbers the second time through the order. Here's a piece I'm going to borrow from RJ Anderson of Draysbay:

His first time facing a batter in a game Sonnanstine's OPS against was .697, the second jumps to .882. His per innings splits suggest that he's capable of retiring all bats - particularly the weakest of the lineup given a .581 OPS against in the third - the first time through, but begins to struggle upon the lineup flipping.
I guess some of the Rays exec's also took notice of that because Sonnanstine has almost exclusively been used in relief this spring. He only has one start in five appearances and will make his second start today. While a career in relief maybe Sonnanstine's destiny, he should start and deserves the spot now while it's still available. I think he will get the last spot coming out of the spring. I expect he will shuffle between the Rays rotation and bullpen as the swingman this year while the rotation settles itself out.