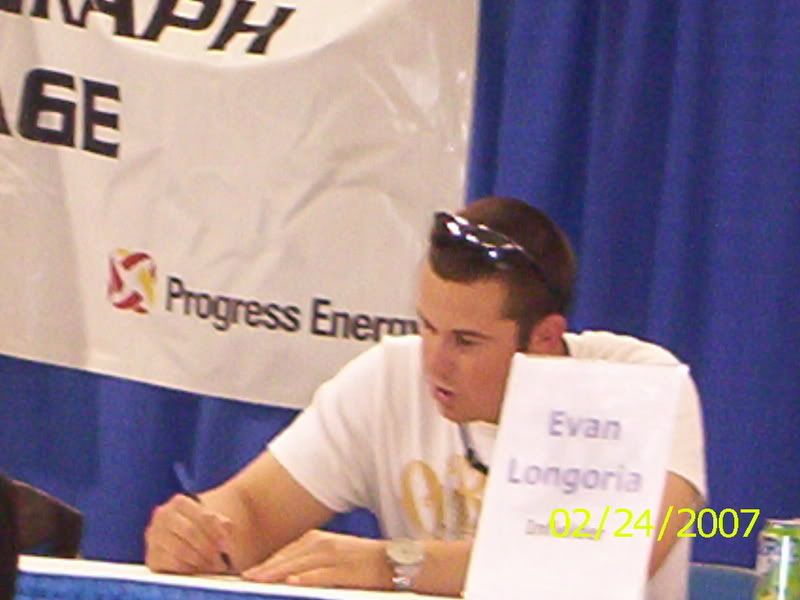 As reported by the St. Petersburg Times, as well as other local media outlets, Rays stud 3B prospect Evan Longoria's fate will not be decided before spring training. Instead the Rays are going to let Longoria battle it out with the other candidates: Willy Aybar, Joel Guzman and Erik Hinske. Rays manager Joe Maddon hinted that Longoria won't make the team on stats alone, but also how he handles himself through the course of Spring Training. Here is a Maddon quote from the Times:


>"For me, personally, it's the entire thing. There's no one area. He could come in and hit .500 and that might not make him make the team,'' Maddon said. "It's just going to be how we're seeing it progress, how we feel the whole thing is coming together, a lot of different things.

"I've got to see it on the field. I've not really been on the field with this guy. I love him. I've seen him in the fall league and I've had conversations, we've gone out to dinner. He's a major-leaguer, there's no question. When is the right time to make that happen, that's what we've got to figure out.''
I personally have my doubts about Evan getting a fair chance. Couldi t be just a smoke screen so the team doesn't come off as trying to delay his free agent & arbitration clocks? Two important dates to remember are April and June 15th and I'm not talking taxes. If Longoria is brought up after April 15th that pushes back his free agency eligiblilty a year. If the Rays wait until after June 15th his arbitration clock is stalled by a year. The fact that Maddon said he could hit .500 this spring and not make the team is pretty ridiculous. If he hit's .500 this spring and the team says he's not ready, you have to believe he never really had a chance anyway.
In his latest
Sportsnation Chat
, Jim Callis was asked about Longoria's chances to open the season with the club. Here is what Callis had to say:
Mike (San Diego): What are the odds that Longoria actually starts the season at third for the Rays?

Jim Callis: (2:25 PM ET ) I'd be surprised if he doesn't.
Keith Law also weighs in on the subject on
Baseball Think Factory
OK, then perhaps I am getting too far into semantics, but that seventh season of control is not related to arbitration. There are two separate "clocks," so to speak:

1. Arbitration. The relevant questions here are whether the player will become a super-two (finishing a season with, roughly speaking, at least 2 years 130 days of service, but under 3 years) and when he will pass the 3-year threshold.

2. Free agency. The only question here is when he'll pass the six-year service mark, or, more specifically, which offseason will he enter with 6+ years of service?

For a player like Longoria, who will probably never return to the minors once he arrives in the majors (a la Gordon, Braun, Tulowitzki, Pedroia this year), these are easy things to figure out. To push back #2 by a year, wait two weeks into the season to call him up. To avoid super-two status, wait until about June 15th. I have no problem with the former, but the latter strikes me as a waste of everyone's time when the player is ready.

He's only had 104 AAA ABs, so I wouldn't think 2 months would hurt him.

But would it help him? It's a long-term asset management question. Two and a half months in the big leagues is, what, 200-250 PA? I have always taken it as a given that reps in the big leagues are a developmental positive for any player who's not completely overmatched - if someone can show me I'm wrong, I am absolutely open to changing my mind, but I don't know of a counterargument. Those 200-250 PA represent a significant amount of development time.
Full Squad workouts start in a week and I can't wait to see how this unfolds.