As we continue on our 40 Rays in 40 days series, our next Ray is P Kurt Birkins.












Kurt Birkins
LHP #24
HT: 6'2 WT: 190

The Dish: Birkins was the Orioles 33rd Round Pick in the 2000 First Year Player Draft. Despite his low round selection Birkins was the first from the 2000 Orioles class to make the Major Leagues. Birkins started his pro career as a starter but settled into the bullpen as a left handed specialist. He made his major league debut on May 4, 2006 against the Texas Rangers. Birkins had a very good start to his rookie campaign posting a .086 ERA in his first 17 appearances. However, his ERA ballooned to 13.50 over his final 18 games before being shutdown with a left elbow injury. For the 2006 season Birkins finished a respectable 5-2 with a 4.95 ERA in 31 Innings. In those 31 Innings Birkins only walked 16 batters. The same can not be said about his 2007 season, where Birkins was largely ineffective. Birkins was briefly used as a starter going 0-1 with a 22.50 ERA, giving up 10 earned runs in just four innings. As a reliever he wasn't much better. In his 17 relief appearances he was 0-1 with a 6.23 ERA. He was claimed off of waivers by the Rays on Oct. 29, 2007.

2007 Numbers:(Baltimore Orioles)19 appearances, 34.1 IP, Record 1-2, 8.13 ERA, 1.92 WHIP, 57 ERA+

Role for '08 With the signing of Trever Miller it is unlikely Birkins has a shot a making the team out of Spring Training. He will likely settle in at Durham. The Birkins transaction reminds us a lot of the Scott Dohmann one last year and Dohmann was a pleasant surprise. If something should happen to Miller, Birkins may make an appearance in Tampa.

Jules's Fantasy Impact: Birkins has no value at all, not even in AL-only leagues. The only people that should be drafting Birkins are his family members.

Tommy's Bottom Line:I don't expect to see much of Birkins this year. Unless Miller gets hurt or is completely ineffective, Birkins will likely be Durham bound. Although I felt the same about the Scott Dohmann signing last year I don't think Birkins will have much success. He doesn't have the live fastball like Dohmann or much of any "stuff." If he gets to the Majors it will be brief; 0-0 with a 7.17 ERA in 7 games.

Here's a pic we took of Kurt talking with John Jaso.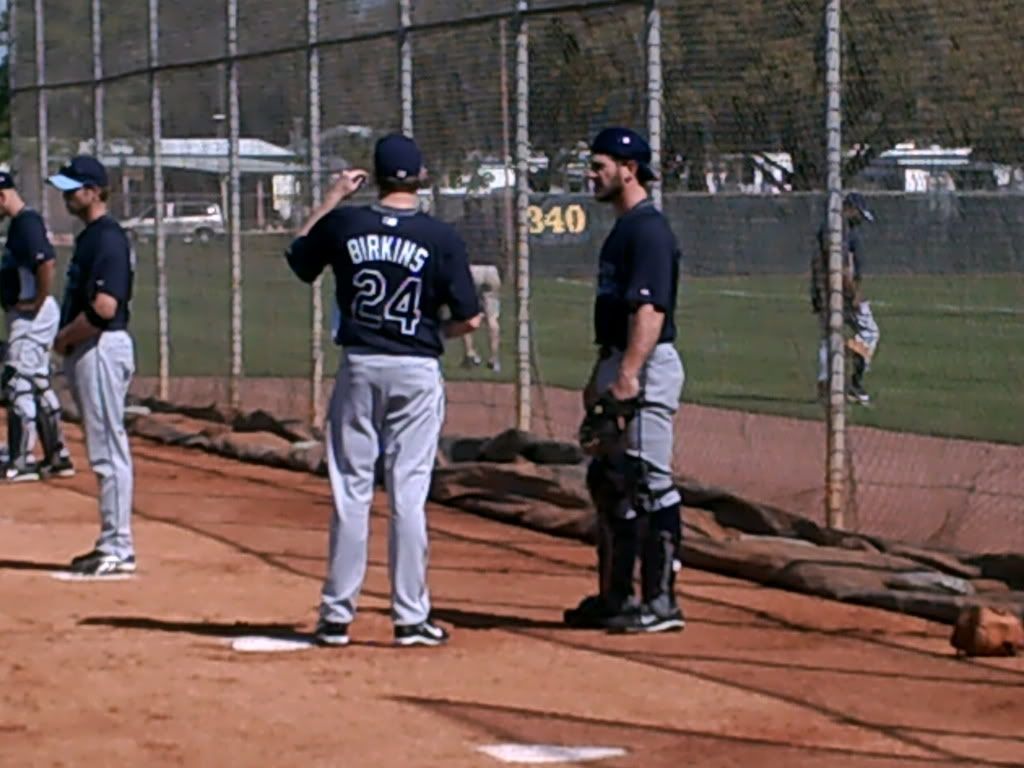 MLB.com

Wikipedia

Baseball Reference