In his recent Ask BA session Jim Callis again says the Rays might pass on current #1 amateur prospect Pedro Alvarez. Callis gives two valid reasons for his views. First, Alvarez plays third base, the same position as Evan Longoria. If he were to move it would mostly likely be to first base or left field, two positions manned by Rays cornerstones Carl Crawford & Carlos Pena, both of who are under contract until 2010. Secondly, there are a few other players who can jump up and grab that top spot from Alvarez. Callis mentions San Diego lefthander Brian Matusz, Missouri righthander Aaron Crow, and Georgia high school shortstop Tim Beckham as possible candidates to be #1 come June. Here is my brief report on those three players:













Brian Matusz is a '6-5 Lefty who pitches for the San Diego Toreros. Brian was named first-team All-American by the NCBWA. In his sophomore season he posted 10-3 record and ERA of 2.85. Matusz pitching arsenal included a fastball that sits about 94 mph. However, some say his change up is his best pitch. He is also working on developing a slider-cutter.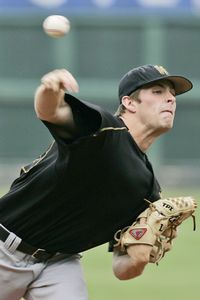 Aaron Crow, a right handed pitcher for Missouri has already been named a 2008 pre season All-American by NCBWA and Louisville Slugger. Crow led Mizzou in Wins (9) and K's (90). For the season he was 9-4 with a 3.59 ERA. He also ranked first among Top Prospects of the Cape Cod League last summer by Baseball America. Missouri coach Tim Jamieson said "I thought he was one of the best pitchers in the Big 12 last year," "He was touching 94 [miles per hour] in the spring and had a significant jump in his velocity over the summer. That could catapult him into the 'nation's best pitcher' discussion."














Tim Beckham, a HS Shortstop from Griffin, GA. was named Baseball America's 2007 Youth Player of the Year. In his junior season he batted .512 with six home runs, six triples, six doubles, 39 RBIs and 20 SBs. Scouts see Beckham as a true five-tool talent. Another chip in Beckham's favor is scouts predictions that he'll be able to handle playing SS at the next level, which is huge. A lot of athletes like the Upton brothers were not able to handle SS at the higher levels, and while they are still great players their values diminish when they move from SS.