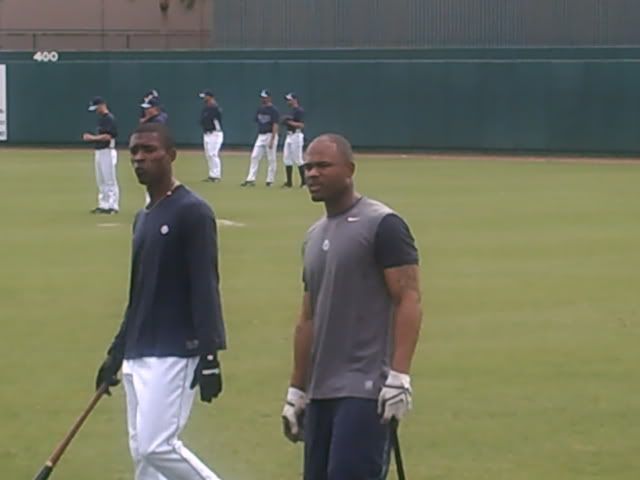 Watching Eric Hinske play right field in Monday's win over Baltimore got me thinking about a few things. First, wow Eric Hinske is the starting right fielder? And secondly, not too long ago didn't the Rays have an overabundance of young, talented outfielders and no pitching? The answer to both is yes.

The Rays franchise has long had a reputation of having more talented young outfield prospects than they knew what to do with, most notably Carl Crawford, Rocco Baldelli, Delmon Young, Elijah Dukes and Josh Hamilton and even Matt Diaz. While the outfield had many excellent players/prospects, the rotation kept running out players like Tanyon Sturtze, Ryan Rupe, Victor Zambrano, Joe Kennedy, the corpse from Weekend at Bernie's, Casey Fossum, and…you get the picture. That caused a major problem as the team was at the bottom of most pitching statistics. As time has passed the Rays seemed to address this issue by drafting more quality arms; Andy Sonnanstine, Jeff Neimann, Wade Davis, Jake McGee and David Price to name a few.

While the pitching has grown into a strength, the outfielders have vanished. Josh Hamilton had personal demons he had to deal with off the field and was seemingly on his road back when the Rays lost him in the Rule IV Draft to the Cubs. He's now starting in the outfield for the Rangers and projected to have a huge year. The Rays flat out released Matt Diaz who had fantastic minor league numbers and is now getting lots of at bats for the Braves. Many thought the Rays should trade some of their excess outfield depth for quality young pitching, but that seemingly never happened until this off-season when Young was shipped out for Matt Garza and Eduardo Morlan and Elijah Dukes was traded, but for not nearly as much. The main reason behind those trades was character issues. I get that, but it left the outfield cupboard a little bare. With Baldelli on the DL again this season the Rays options for right field are a platoon of Hinske and Jonny Gomes it seems. The team has also been mentioned in discussions for Jeremy Reed, Matt Murton and even Barry Lamar Bonds.

The times have changed in St. Petersburg. What used to be a weak point is now the strength of the organization. With Sonnanstine in the rotation and Neimann, Davis, McGee, etc not far behind, the Rays seem set at pitching for the next several years. I'll always much rather be stocked at pitching than offense, it's just such reversal of fortune from a couple of years ago that it's almost comical. I'm not saying the Rays are void of any outfield prospects. I love Desmond Jennings as much as anybody, I think he'll be a Crawford type player when he arrives, and Fernando Perez is nice, but after those two there's a gap, one the Rays haven't had in their history. While I wish Eric Hinske all the luck in the world, think about how an outfield of Crawford, Upton, and Hamilton would look behind this staff?