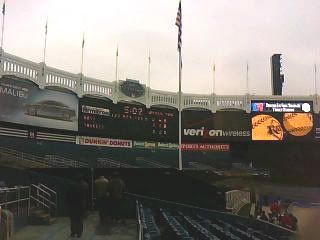 Not too much happening since we got back last night. Shields was out matched by Wang. One mistake and there went the potential sweep of the Yankees. Jason "The Hammer" Hammel takes the mound tonight against Mike Mussina. Several Rays do well against the Moose, including Carl Crawford and BJ Upton. However, Carlos Pena and Eric Hinske have struggled in their careers. Both are expected to start the game regardless.

Josh Paul, who was thought of as an option to replace Mike DiFelice at AAA Durham for a few weeks, opted to sign with the Houston Astros and will report to AAA Round Rock. That move makes sense for Paul since the Rays gig is a temporary one.

Tomorrow is the Rays home opener as the Good guys will take on the Seattle Mariners. In a good pitching match up, it looks like Matt Garza will face Erik Bedard, if Bedard is healthy enough. The game is sold out for the third straight season. From Raysbaseball.com Rays Owner Stu Sternberg:

"You know, it's funny -- the first year, right until the end, we were hoping we'd sell it out," Sternberg said. "It's an interesting progression. Last year, I think it was by 3 or 4 o'clock [in the afternoon on the day of the game], we were able to announce a sellout. And this year, to be able to announce it a day or two in advance -- that's great progress."

The Heater is reporting that a few obstructed view, scattered singles and handicap accessible seating are available, however this is the earliest a game has sold out since the inaugural opener back in 1998.

We will be attending this game as well as Wednesday's so pictures should be a plenty around here. He are some shots I snapped with my camera phone in the Bronx. We'll have more later or tomorrow of Rays players.