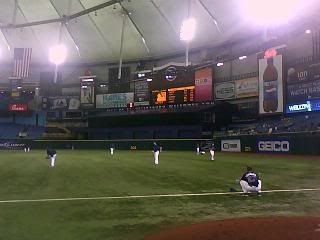 It was the best of times, it was the worst of times, and at one point the Boos were the loudest I've ever heard in a stadium. The Rays lost their third straight game last night, lowering their record to 3-4. The worst news wasn't the loss on the field, but the loss of Matt Garza who was lifted in the third inning after 70 pitches. Garza was placed on the 15 day disabled list with radial nerve irritation, something he says he's been battling since last season, but Joe Maddon said he had no previous knowledge of the injury. Garza said the pain in his arm started to cause his hand to go numb at some points of the night and made it hard to grip the ball. From TBO.com

"I've usually been able to get through it, just kind of pitch through it and wear the pain and get it right after the game and get my work in," said Garza. "This time it was just real bad – I knew something was up."

"I've never missed a start in my life," he said. "I've always been able to game up and go at it, no matter how tired I was or how bad I felt."

I did some research on radial nerve injuries in pitchers and Jeff D'Amico, John Patterson and Shawn Hill have had surgery to "decompress" their radial nerves. Scott Williamson has a radial nerve impingement back in 2004. I don't know how close or un close those injuries are to Garza, but If I find out I will give an update.

Jae Kuk Ryu was recalled to help out in the bullpen after it was stretched pretty thin last night, having to pick up final 6.1 innings of work. The Rays are expected to call up a starter from AAA Durham before this Sunday's game. Jeff Niemann is the leading candidate after almost making the team out of Spring Training. His next scheduled start in on Sunday anyway. On to the game recap...

On the Mound:

Garza was all over the place before leaving with the injury. I don't know how much to equate to ineffectiveness or injury. Garza gave up three earned runs on six hits and three walks. He obviously wasn't sharp and if a pitcher's hand is numb that might do the trick. Scott Dohmann and Gary Glover did their best but it wasn't enough, giving up a combined three runs in three innings as Glover took the loss. Al Reyes gave up two hits, but no runs in his inning and Dan Wheeler and Troy Percival continued to be perfect on the season. Wheeler has not given up a hit or walked a batter in 5.1 innings so far this season.

At the Plate:

The Rays offense came alive after being frozen in the 40 degree weather in New York. After getting seven hits and one run over the final two games of the Yankees series, the Rays scored five runs on six hits last night. The two big blows came on solo home runs by Shawn Riggans and Carlos Pena. The Rays had plenty of chances, leaving 14 men on base. The Rays had a potential rally in the seventh, but a questionable call on a potential B.J. Upton triple changed the game.

Much thanks to Eric Seidman of Red Lasso with this clip of B.J. Upton being called out.



Also here is a still shot from the video. You can clearly see Upton get's in before Beltre even attemps a tag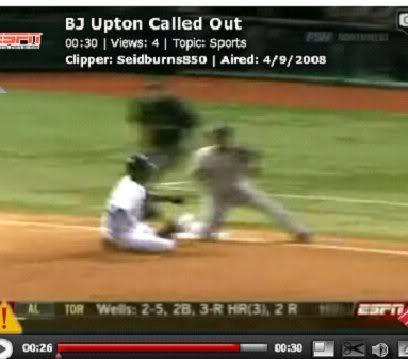 Tommy's Take: B.J. Upton was safe. The throw came in high and B.J. slid under the tag. B.J. busted out of the box so fast he lost a shoe. Joe Maddon also believed B.J. was safe and he was so upset he got ejected. For the normally mild mannered Maddon, he really had to believe Upton was safe to get tossed. From that call until the end of the game BOO's reigned down from the stands of the Trop on almost every pitch. It was a pretty cool to see the passion in the crowd. Carl Crawford is just hacking at the plate and he really needs to stop it. Carl is averaging 3.06 pitches per plate appearance. That strategy may work for some players, but it's not working for CC. In 33 PA Crawford has seen 101 pitches. Compare that with Edwin Encarnacion who has seen 156 pitches in the same amount of PAs. Crawford is now in a 2-23 slump and it seems to be affecting the rest of the lineup.

Erik's Take: Great Crowd, Great atmosphere, Bad result. The Matt Garza injury is a huge blow to an already injury riddled team. Garza joins Scott Kazmir, Dioner Navarro, Ben Zobrist, Rocco Baldelli, Chad Orvella and Kurt Birkins on the DL. The call on BJ Upton's near triple was atrocious. As Tommy said, the throw was high and even from the second deck we could tell he was safe. BJ is normally pretty even keeled, so he must have been really convinced he was safe if he was jawing at the umpire. Walking back toward the dugout Upton grabbed his shoe out of the bat boy's hand with such anger that I thought the kid was going to unload in his pants. Crawford does need to be more selective, but he's never been a first half player. His AVG/OBP/SLG are all higher in the second half of the season for his carrer.

It wasn't all bad news yesterday, as Scott Kazmir threw 42 picthes during a simulated game and Maddon said he looked good.