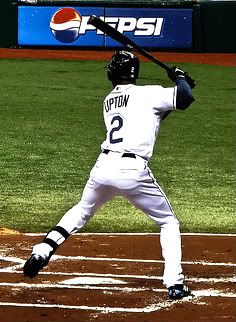 I think B.J. Upton reads our site because he took our advice and started hitting long bombs. I also think B.J. was tired of being called out by umps on bad calls. Upton was called out trying to advance to second on a ball that got away from O's back up catcher Guillermo Quiroz. However, later in the 5th inning with two on and two out Upton lifted a blast into left field giving the Rays a 6-0 lead. That was more than the Rays would need after a very impressive debut by "The Big Ugly" Jeff Niemann. It wasn't pretty as Niemann escaped a few jams, but he got the job done. The Rays evened their record at 6-6 with a 6-2 victory and claimed their first series win of the season.

On the Mound:

Niemann made his long awaited debut for the Rays. The 2004 First Round Pick lived up to the hype going six strong innings. Niemann escaped a bases loaded jam in the first without surrendering a run. In all, a Nick Markakis solo home run in the 6th was the only negative mark on Niemann's line which read 6 IP, 6 H, 1BB, 5 K's. J.P. Howell had a rough outing, giving up two hits and a walk before getting the hook recording 0 outs. Dan Wheeler came in with the bases loaded and no out and got Melvin Mora to pop up in a tough AB. He walked Nick Markakis to score a run, but got the next batter, Kevin Millar, out without giving up another run. Trever Miller came in and struck out Aubrey Huff on three pitches to end the threat. Miller is really doing a good job as the lefty specialist. So far this season he has held lefties to a .222 BAA and has 0.00 ERA against them. However, when the batter is on the other side of the box he has a .455 BAA and a 7.71 ERA, thats why he's a LOOGY. Al Reyes and Troy Percival pitched a perfect 8th and 9th respectively to close out the victory.

At the Plate:

If you erase the 5th inning, the Orioles threw a no hitter. Good thing for the Rays the 5th inning counts. The Rays scored six runs on six hits and chased O's starter Brian Burres, who was throwing a no hitter coming into the frame. The Phenomenal Evan Longoria lead off with a walk followed by singles by Justin Ruggiano and Mike Difelice. After a Bartlett pop out, Aki Iwamura drove in the games first run with a single. Carl Crawford then drove in two with a single. B.J. Upton provided the big blast after that, making it 6-0. The Rays were quiet after that, but the damage was done. None of the Rays hitters had multi-hit games, but Evan Longoria did reach base twice going 1-3 with a walk and run scored.

Tommy's Take: If some one would've told me that after 12 games the Rays would be .500 and Evan Longoria would be playing 3B, while Jeff Niemann was in the rotation, I would've jumped at that. Well that is the reality and even though the Rays have nine players, including 4 starters, on the DL they are still playing pretty good ball. I'd like to see more consistency, but the season is still young. Evan Longoria looks ready for the show, getting timely hits and showing major league patience at the plate. In fact, Longoria has more walks(2) in 6 ABs then Delmon Young has in 42. It was great to see B.J. finally break out and get a home run on the board. I must admit I was getting jealous watching Justin hitting home runs at will in the desert. For those keeping track, BJ needs 29 home runs and 27 more steals to hit 30/30. Hat Tip to Jeff Niemann on a great debut, once Kazmir and Garza get back the Rays will have one of the best rotations in the American League.

Erik's Take: It's been great watching all of the Rays young players succeed to begin the season. Hammel and Jackson have pitched well, Longoria looks to be for real, and Niemann looked great yesterday. If they can all keep playing well I believe the Rays should actually climb over .500. You hear about how big Niemann is, but seeing him on the mound...wow that kid is huge. It was also great seeing Crawford drive in two runs to hopefully snap him out of his early season funk. This is the most exciting team we'ev ever had here, and I hope the crowd keeps coming out to support them.