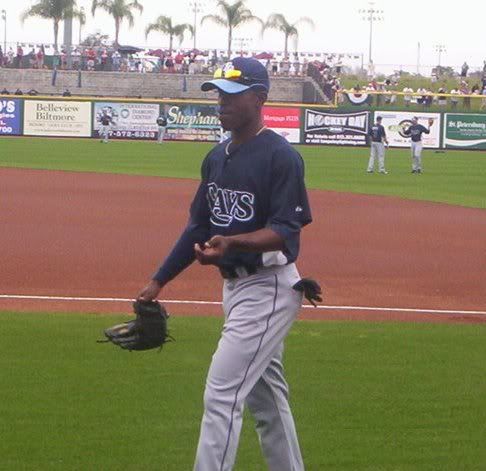 What is the sound you're hearing coming from the Tampa Bay clubhouse? It's a Buzz, but not the vibrating sound of a bee, no, this is a different buzz. From
TheFreeDictionary.com
Buzz 5.
Slang
a. Excited interest or attention:
That is the sort of Buzz I'm talking about and it really sounds louder the closer you get to B.J. Upton. Upton, the quiet storm of the Rays, has been drawing all sorts of praise and "buzz" this off season, but barely has said a word himself. Upton is only entering his second full season, but the "buzz" is of possible 30/30 and 40/40 seasons in his future. I am a believer in the buzz around B.J. Upton.
B.J. Upton started as the future of the Rays middle infield and we quickly found out that defensively that was not going to happen. After sitting in Durham for two seasons and switching positions, Upton finally got his everyday shot last year. He started the season as the Rays second basemen, but after Rocco Baldelli went down, possibly for good, BJ packed his bags and glove(s) for a final time and moved to CF permanently, where finally a star was born. In 2007 Upton hit .300/.386/.508 with 24 home runs, 82 RBI and 22 steals. Hardball Times also said B.J. Upton had the best arm of any Major League CF.
While many other young players like Nick Markakis, Prince Fielder and Cole Hamels complained about not receiving lucrative extensions this offseason, Upton accepted the Rays salary and did so without complaining. In fact, Upton posted a higher Avg, OBP, SLG, OPS, Steals, EqA, VORP than Alex Rios who received a 7 year nearly $70 Million Dollar extension from the Jays.
Upton became the first 20/20 player in Rays history and almost became the first 30/30 hitter. In fact I checked on Baseball-Reference.com and adjusted Upton's 2007 to be per 162 games or 650 PA's. Based on their projection in 162 games, Upton would've hit 30 home runs and stole 27 bases, narrowly missing out on a 30/30 season. R.J. Anderson of Beyond the Boxscore also crunched the numbers for me and had the same results.
However, there are plenty of things that could factor into that. B.J. missed over a month with a strained quadricep, which probably slowed down or limited his aggressiveness on the base paths. This year Upton is hitting in a much better lineup and should be on base more. The Rays have also promised to be more aggressive this season and could increase Upton's stolen base attempts. If he stays healthy 30/30 is not only do-able, it's likely. Upton may even flirt with a more exclusive club, 30/50, which has only been done by Eric Davis and Barry Bonds.
When I think of B.J. Upton the one comparison that jumps out at me is Alfonso Soriano. They are both sort of tall, skinny players(Soriano 6-1 180, Upton 6-3 185), both started their careers at SS, moved to 2B and for defensive purposed shifted to the outfield as their permanent homes. In Soriano's first full season with the Yankees he hit .268/.304/.432 with 18 home runs and 73 RBI. His .736 OPS was almost .260 points lower than Upton's. In Soriano's second season he made a quantum leap to .300/.332/.547 with 39 home runs and 102 RBI. That season he also became a member of the 30/30 club and narrowly missed the 40/40 club(39 home runs, 41 steals). While I don't expect Upton to increase his home run total by 21, I do think B.J. can see an increase of maybe 8-10 homers and at least 10 steals.
Using the
Wikipedia 30/30 Club
article, I decided to see if Upton did go all 30/30 on us where that would place him in baseball history. The first 30/30 season was in 1922 by the St. Louis Browns Ken Williams. There was a long time between the first and the second occurrence of 30/30. The next player to accomplish the feat was Willie Mays in 1956. Including Mays, there have been 50 seasons 30/30s by 30 players since 1956. There are only four players in the 40/40 club.
Alex Rodriguez was the youngest member of the 30/30 club. Rodriguez was 22 years, 3 days old when he accomplished it in 1998. The second youngest member was not Barry, but Bobby Bonds who joined the club in 1969 at the age of 23 years, 182 days. Currently the third youngest member is Jose Canseco who was 24 years, 35 days in 1988. For those keeping score at home BJ Upton is currently 23 years old and will turn 24 on 8/21/08. In order for Upton to become the third youngest member he would have to reach the 30/30 plateau on or before 9/24/08. He would also be only the 10th Member of the Club to do so in the American League.
Getting a little deeper into the list, the record for most 30/30 seasons is currently shared by the Father-Son combo of Bobby and Barry Bonds who have five 30/30 seasons a piece. Next on the list is Alfonso Soriano(4) who will be the king of 30/30 pretty soon. Some of the other players who have gone 30/30 more than once are; Howard Johnson (3), Ron Gant, Jeff Bagwell, Raul Mondesi, Bobby Abreu, Willie Mays, Sammy Sosa and Vladimir Guerrero have all had two 30/30 seasons. Should Upton reach the milestone this early in his career he is a serious candidate for multiple 30/30 seasons and I've even heard faint whispers of 40/40 down the road.
If Upton becomes a member of the club it doesn't mean he is guaranteed to be a great player. Jose Cruz Jr., Preston Wilson, Ellis Burks are all members of the 30/30 club and were good players, but none of them great. Cruz Jr. never stole more that 15 bases in any other season. After Burks' 30/30 season he only stole 40 bases combined over the final eight seasons of his career. Preston Wilson played only three more full seasons in the Majors after joining the club at age 25. Since then he has bounced around four organizations and is currently looking for work.
Marc Topkin of the
St. Petersburg Times
did a piece on what some others thought about B.J.'s 30/30 potential. Here are some of the quotes:
"Hell yes," leftfielder Carl Crawford said.

"There's no doubt," Maddon said, "and I don't think I'm putting any undue pressure on him because I believe he believes that."

"Easy," said Minnesota's Michael Cuddyer, a childhood friend. "He's got unbelievable talent."
Also in the
piece
B.J Upton said his goals for this season were to do better than last year and also "Maybe that 30-30 thing you're talking about."
I recently talked to Jim Callis, Executive Editor of
Baseball America
, about B.J. Upton's chances for 30/30 and the comparison to Alfonso Soriano I mentioned earlier. "I think B.J. almost certainly will go 30-30 at some point in his career. If I have to put a number on his chance for this year, I'd say 30 percent" Callis said. On the comparision to Soriano, Jim said "Not a bad comparison, I think B.J. is significantly better OF, though."
I also talked to a writer from
Baseball Prospectus
about the same topics. He said the Soriano comparison was fair, but wasn't so optimistic about the 30/30 chances. The writer gave Upton a 10 percent chance and mentioned that his PECOTA mean has him at 30 steals, but 18 homers. Even his 90% is a bit shy of the mark. He also mentioned that the percent could possibly be higher, because Upton is probably bigger than his listed weight of 185 lbs and thinks Justin Upton has a better chance at 30/30 anyway.
Eric Seidman who writes for
Statistically Speaking
and is currently writing the book Bridging the Statistical Gap, told me "I feel that there is a very high chance Upton will get to 30/30 and I would even go so far as to say upwards of 70%. Now of course this is given that a few factors play out the correct way, including his ability to maintain a high BABIP and stay on the field. I do not think steals will be his problem but rather the HR. I say 70%, but I am fully acknowledging that it is more likely that the 70% refers to him being extremely close, like with 27 HR and 35 SB or something along those lines as opposed to say 38 HR and 46 SB. He's got a very good chance, but it will not surprise me at all if he ends up with a 28-28 or something just missing it."
Upton has had his ups and downs in this career. There was a DUI charge in Durham, the USA Today piece where he, Delmon Young and Elijah Dukes, were all labeled as spoiled, ungrateful brats, and then there were the defensive struggles as shortstop and taking years to find a permanent place on the diamond. All of these could have derailed a young player and possible ended a career before it got off the ground. Upton, however, through hard work and perseverance had arrived. Upton is quiet by nature, but his play is loud and people are taking notice. Bossman Jr. and his brother, DiamondBacks OF Justin, graced the cover of ESPN recently and Upton already is a star in the world of fantasy baseball.
It's just a matter of time before the whole baseball world is really talking about Upton. But what's behind the man that we don't know? Take a look at this excerpt from a Baseball Prospectus
interview with B.J. Upton
in 2004:
Baseball Prospectus: What's something you'd like the fans, and people in general, to know and understand about you when they get a chance to read this interview?

Upton: I chill.
He Chills, B.J. Upton, The Cool…